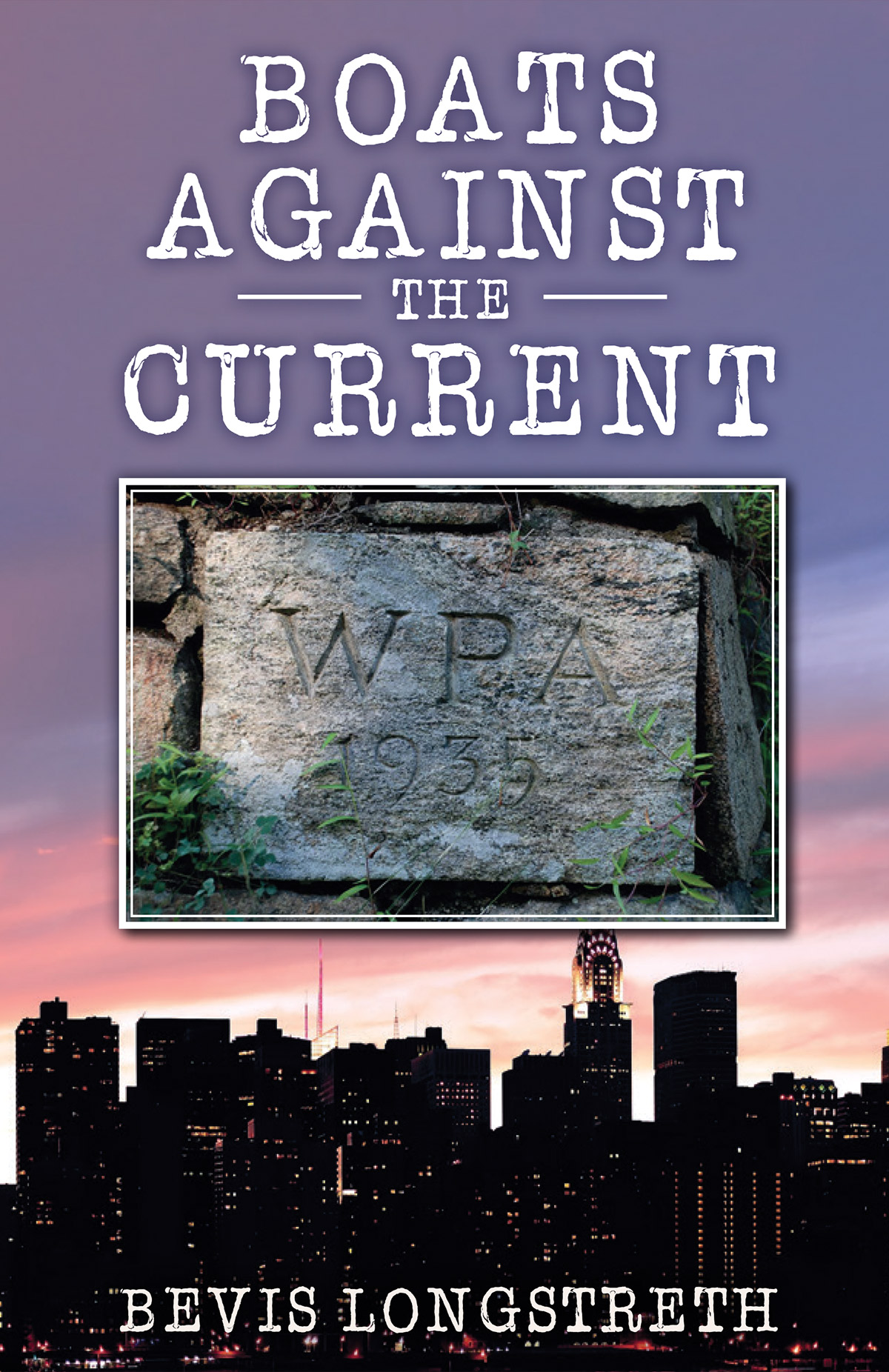 About Boats Against the Current
In luminous prose, this historical novel charts the struggles of six unforgettable lives braided together in the Great Depression, with FDR's New Deal and its Works Progress Administration serving as armature for the story.

Adam and Benno Murdock are twins of a deceased mother and Dan Murdock, a cattleman from Kansas. Each in his own way comes to terms with the politics of their father, who hates FDR and uses nationwide radio to attack the New Deal.

After law school, Adam is hired by Harry Hopkins, head of WPA. Benno becomes a sculptor, declines college and, rejected by Dan, moves to New York City, where he suffers poverty and unemployment.

The twins meet and engage in ways universal with Mariah Massie, from an aristocratic family in Richmond, Virginia, and Violet Long, a vocal and acting talent who escapes to New York City from the dusters of Dalhart, Texas. Rachel Bernstein, an Austrian psychiatrist who lands in Kansas, helps the twins come of age.

These fictional characters blend with many historical figures, including Hallie Flanagan, head of the WPA's famous Theatre Project, Huey Long, the tyrant from Louisiana, and William Allen White, the editor and owner of The Emporia Gazette in Kansas.
Praise for Boats Against the Current
Longstreth deftly blends historical figures with fictional characters in a compelling tale set against the backdrop of the Great Depression and FDR's New Deal. The narrative is lively and heartfelt, the lead players are richly observed, and there's the added surprise of how many of the novel's issues resonate in today's political climate. A provocative, trenchant novel that left me demanding a sequel.
—Dominique Browning, literary critic and head of Mom's Clean Airforce

If you think the current political turmoil is a first, perhaps you ought to read Bevis Longstreth's new book about the blood sport between FDR's followers and his conservative enemies during the Depression. The setting chosen by the author to dramatize this battle was the Works Projects Administration (WPA), the biggest New Deal program initiated by Roosevelt.

Longstreth was a member of the Securities Exchange Commission for several years in the 1980's and he knows his way around Washington so the historical highlights of the WPA, the Dust Bowl, the Veterans' March on Washington in 1932, and massive unemployment come to light in vivid detail. The story of the twins, their girlfriends, their father, and an errant female psychiatrist take a few strange turns, complete with some wayward sex, early signs of feminism, and more than enough ambiguity to fuel a sequel. A great read.
—John Doyle, rare book dealer

Boats Against the Current is historical fiction at its best. Longstreth has created an entertaining tapestry of characters and history that is difficult to put down; the more I read, the more I cared about the characters. Longstreth's style is a well crafted amalgam of erudite history and flowing and easy to read fiction prose.

The author's exceptional intellect and accumulated personal wisdom, as expressed in the philosophical musings of many of the characters, pervades the entire book. It is full of numerous discerning psychological insights along with nuanced portrayals of the characters' internal lives. The use of the political and historical backdrop of the 1930's to illuminate some of the most critical political and economic issues that face us today makes this a timely offering. The scholarship that supports the history and details of the period are particularly impressive.
—Steven Bloom, investment manager

Historical fiction at its best reminds us, in surprising and moving ways, how our pasts bear on our present. In Boats Against the Current, Bevis Longstreth has used history as a springboard for his imagination, asking us to return to America in the 1930s. He paints such a clear-eyed, intelligent, and generous picture of that world and the people who populated it that we return to our own present-day world reoriented and recharged. As it turns out, if we don't learn from our histories, political and personal, we are doomed to repeat them. This is a rigorous and often heartbreaking look at our shared histories as well as a call to do something about our shared future.
—Karen Shepard, author of An Empire of Women, The Bad Boy's Wife, and Don't I Know You?

Mr. Longstreth is a master at historical fiction which allows us to understand how our past appeared and was lived. He brings his characters to life, reminds us that the more things change the more they remain the same, and shows us that history is not made by "forces" beyond our control but by our own choices, values, and courage. You will not regret reading this one.
—Bob Kerrey, former President, The New School