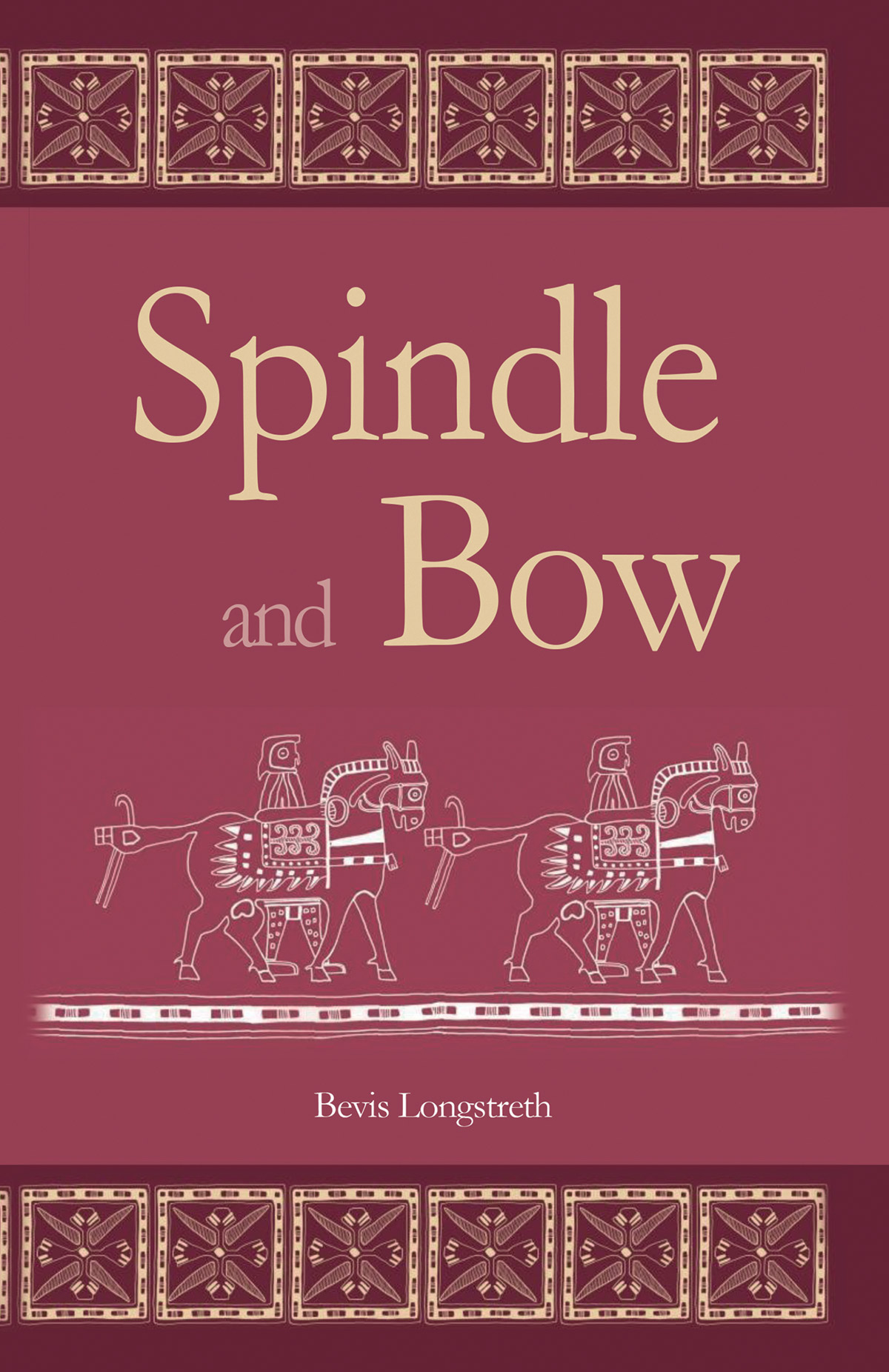 About Spindle and Bow
Spindle and Bow tells a story of love, adventure and the transcendent power of art at the dawning of civilization.

Set in the 5th century BC, this human drama spans some 3,000 miles, from the ancient city of Sardis at the western edge of the Persian Empire in Anatolia, to the Scythian village of Pazyryk in the Altai Mountains of what is now southwestern Siberia.

Rachel, a young Sardian Jew, is a weaver of consummate skill in the royal workshop of Cyrus the Younger. Amid the opulence of the Sardian Court she meets Targitus, a Scythian prince come west to learn the closely kept secrets of gold purification.
What unfolds is the imaginative braiding of two lives, thrown together by chance, but resulting in the creation of the oldest known pile carpet in existence, preserved for future generations in a frozen tomb. The carpet, now in St. Petersburg's Hermitage Museum, is a towering achievement in art and weaving, unsurpassed by textiles of later years.
Praise for Spindle and Bow
Combining the excitement of an adventure tale, the captivation of a romance and the fulfillment of a well researched work of scholarship, Spindle and Bow leaves a lasting impression. While casting light on ancient Persian and Scythian customs and arts – and in particular the artistry of weavers and rug makers of that day, the book reveals thought-provoking parallels between ancient and contemporary life. A remarkable achievement.
—Marie Winn, author of Red-Tails in Love and The Plug-In Drug

What will we make out of the world around us? This is the question at the heart of Bevis Longstreth's extraordinarily textured Spindle and Bow. Longstreth takes us back to the most unfamiliar times and cultures in order to examine the essential questions of what it means to be human in the world. Along the way, we learn about gypsy caravans and Satraps' palaces, the purification of gold and the mysteries of one of the greatest carpets ever made. This richly woven novel reminds us of the importance and possibilities of Art. Longstreth reminds us that what we make out of the world around us is a moral issue of the utmost relevance.
—Karen Shepard, author of An Empire of Women and The Bad Boy's Wife

Late this morning I completed my reading of Spindle and Bow. At the time I was cramped into a recording booth here at the Library for the Blind, but in truth I was in the Great Ulagan Valley with Rachel and Targitus. When I got back to the office I broke out the koumiss to toast you and celebrate your remarkably imagined and splendidly written novel. It is a memorable work.
—Spence Toll

I wanted to tell you how much I enjoyed reading Spindle and Bow. Great beginning – great understated ending – and lots of fun stuff in between. Congratulations.
—Elizabeth Barber, Professor of Linguistics and Archaeology, Occidental College

Longstreth writes with the exquisite detail of a craftsman and jeweler. His warm affection for Rachel calls to mind Pygmalion and Galatea. Spindle and Bow is a sensual feast.
—Bob Kerrey, President, The New School

Bevis Longstreth has woven a compelling story around one of our least known ancient treasures, the Pazyryk carpet. He has taken this fragile textile, which was literally frozen in time, and has embedded it in a world of lovingly drawn characters whose unfolding story captures the imagination and heart of the reader. We are encouraged to see the Pazyryk with new eyes – not simply as a work of art in a sterile, ice-filled tomb, but as a gift of love and a celebration of humanity.
—Jennifer Wearden, Former Curator of Textiles, Victoria & Albert Museum<

Bevis Longstreth was inspired by a rug, and what a rug! The Pazyryk, the oldest and one of the most interesting and beautiful rugs ever found. It led him to undertake an almost fanatical research effort from the great Hermitage Museum to the Altai Mountains. Spindle and Bow is the result – a profound and exciting love story set in a time and place as unfamiliar as it is exotic. The lovers, Rachel and Targitus, are compelling and unforgettable.
—Jeremy Grantham, Chairman, Grantham, Mayo Van Otterloo & Co. LLC

This is a love story, an imaginary history of the controversial origins of the Pazyryk carpet, a lesson in how a rug is created from the preparation of the wool to the last knot, and a lesson in Central Asian geography, all woven together into an exciting, spell-binding story that I found hard to put down until the very end.
—Gail Martin, New York City antique textile dealer